Minister of Solid Minerals Development made this statement during a visit by Abdullahi Sule, the Governor of Nasarawa state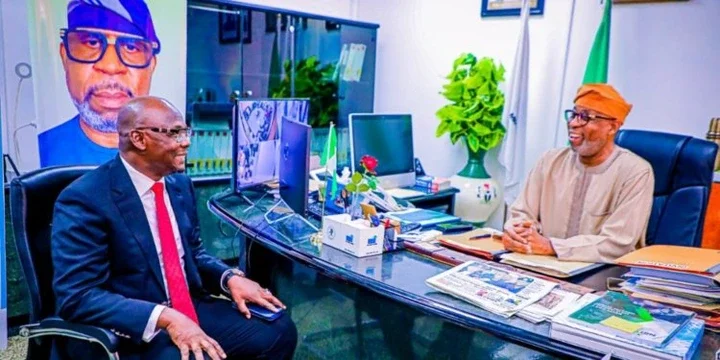 Dele Alake, the Minister of Solid Minerals Development, has expressed his ministry's intention to collaborate with governors in order to effectively utilize the country's mineral resources for the overall socio-economic development of Nigeria.
Alake made this statement during a visit by Abdullahi Sule, the Governor of Nasarawa state, to the ministry's headquarters in Abuja on Thursday.
He emphasized the ministry's determination and commitment to harnessing the nation's mineral resources.
Alake also assured that Nasarawa state, as well as other states, can expect to experience significant progress towards enhancing the living standards of its citizens under the current administration's "Renewed Hope Agenda".
"Nasarawa state is very significant in terms of the development of mineral sector, and we are putting the mechanisms together; we are crossing the t's and dotting the i's to make sure that the nation derives maximum benefits from this God-given gift of minerals that are in abundance in Nigeria," Alake said.
"We are going to harness and utilize efficiently, effectively and proficiently to ensure that Nigeria really expends the resources judiciously from solid minerals. That is the next petroleum of Nigeria."
Minister Alake emphasized the importance of collaboration and coordination in exploring minerals and spending resources wisely. He thanked Governor Sule for visiting and highlighted the importance of synergy between the federal and state governments in developing the solid minerals sector.
Governor Sule expressed his satisfaction with Minister Alake's role in a ministry that is significant for Nasarawa.