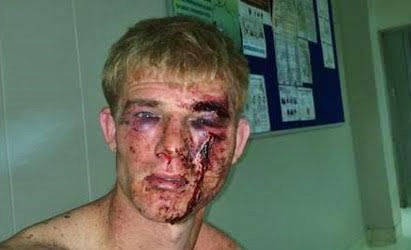 There was a major controversy in the comemrcial city of Lagos on Tuesday after a foreign expatriate identified simply as Mr Zcent, narrowly escaped death after he visited his prospective gay friend he met on Facebook to advance his s*xual lust in Lagos.

According to a report by P.M Express, the white man was brutally attacked, battered and dumped by angry residents at the Catholic Church land at Ori-Oke in Ejigbo area of Lagos.

It was gathered that the incident happened at the weekend after Zcent left his Lagos Island home and visited the friend in Ejigbo whom he had talked into gay practice through Facebook.

When he arrived in Ejigbo where he and his friend had fixed an appointment, he was suddenly surrounded by some youths who had already known his mission in the area.

When he arrived, he was forced out of his car and taken to the Catholic Church land where he was stripped, tortured, disgraced and left to his fate.

The operatives of the Nigerian Police were the ones who saved the day for him after the matter was reported at the Ejigbo Division.

While speaking to a correspondent, some residents at the Ori-oke area where the incident happened, confirmed the attack, saying that the man wanted to engaged one of the residents into gay practice through Facebook.

He was pressurising the friend to come to his Lagos Island home for the s*x romp and promised to pay him certain amount of money in dollars. However, the friend declined and invited him to come to Ejigbo where he reportedly mobilized some youths and attacked him.