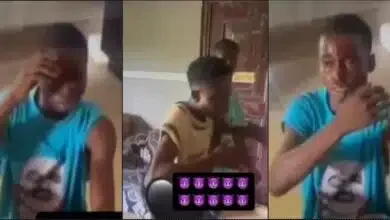 A Nigerian teenager gets caught while attempting to poison his best friend and his two brothers over intentions to steal their iPhone X.
A video making the rounds on social media captured the desperate attempt of a young boy who tried to take the lives of three people so as to steal and get away with one of their smartphones.
In the video, he could be heard questioned on how he planned to carry out the plan without being suspected. He confessed that he had added rat poison to their food with the hope of killing them.
His best friend could be heard in the background feeling betrayed by the move but was calmed so as to get the full confession from the teenager. The 30-second video, however, did not detail how the plan failed, and whether or not he was handed over to the police for further investigation.
"Little boy want to poison his bestfriend and 2 brothers because he want to thief iPhone X," the caption on the video read.
The video has since sparked mixed reactions on social media as many berated his desperation for a device that has a short lifespan.
Reactions trailing teenager 's attempt to poison best friend
@melkinsjewelsaccraghana wrote: "Look at what our young generation has become just because of lost for advance technology 🙆‍♂️🤦‍♂️"
#Purple X wrote: "This is a case of kidnapping and attempting murder no longer stealing of phone. You don't take laws into hands. Such should be reported to the police."
@Iamjeremmy wrote: "This is what the world has turned to. Young children are now obsessed with worldly things enough to want to kill their fellow man. I fear what the world has become."
Watch the video below ...