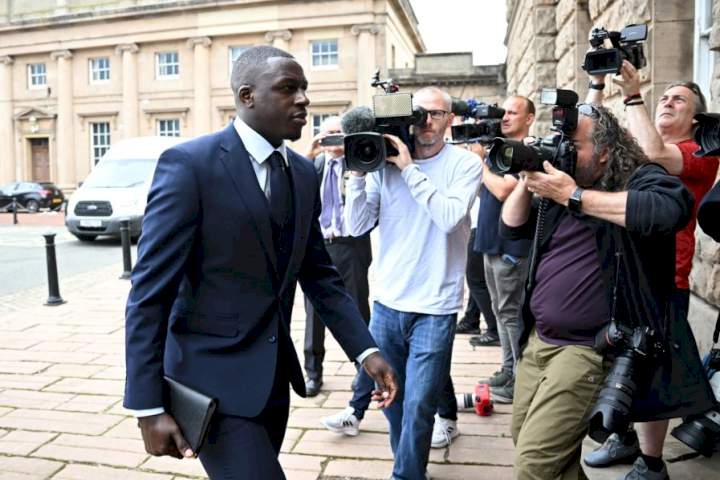 A jury in the UK on Friday cleared Manchester City and France footballer Benjamin Mendy of six counts of rape and one of sexual assault against four women, following a six-month trial.
The seven men and four women on the panel failed to reach verdicts on a seventh charge of rape and one of attempted rape.
Prosecutors said afterwards they would seek a retrial on those counts.
"We have made a decision today, which is to proceed on these counts in two separate trials," prosecutor Matthew Conway told Chester Crown Court.
Mendy, 28, who denied all nine counts involving six women, covered his face with both hands, gently rocking back and forth, as the verdicts were delivered.
Jenny Wiltshire, of Mendy's lawyers Hickman & Rose, said the footballer was "delighted that he has been unanimously acquitted" of most of the charges he faced.
"He looks forward to clearing his name in relation to the other two charges so he can start rebuilding his life," she added.
Judge Steven Everett immediately set a new trial start date of June 26 for the two counts on which the jury did not return a verdict.
"It is not unusual that jurors don't reach verdicts on some counts. You have to be true to your duty," Everett said as he thanked them and excused them from any future jury service for seven years.
The jury, which began hearing the case last August, had been deliberating since early December, with an extended break over the Christmas and new year holiday period.
Club responds
Mendy was accused alongside Louis Saha Matturie, 41, an alleged "fixer", who was found not guilty by the jury of three counts of rape relating to two teenagers.
Jurors also failed to reach verdicts on three counts of rape and three counts of sexual assault against Matturie by five other women.
The prosecution had alleged that Mendy was a sexual "predator" who raped or sexually assaulted young women procured by Matturie, at parties at his luxury home.
Mendy denied ever forcing any woman into sex and both said any sexual activity they had with women was consensual.
Giving evidence, he told the court that he enjoyed "having sex with a lot of women".
But, he said, if a woman said "no" he would "be fine, I'd accept it and I'd stop".
He said he had seen it as "normal" to sleep with several women in one night and "didn't worry" about using contraception, acknowledging he could be "disrespectful" in talking about women.
A statement from Mendy's club Manchester City said: "Given there are open matters related to this case, the club is not in a position to comment further at this time."
Mendy joined Manchester City from French club Monaco in 2017. He has played 75 times for City, but his playing time was limited by injuries and a loss of form.
He has not played since August 15 2021, days before he was hit with an initial charge of four counts of rape and one count of sexual assault.
The last of his 10 caps for France came in November 2019, after the defender won the World Cup in 2018.