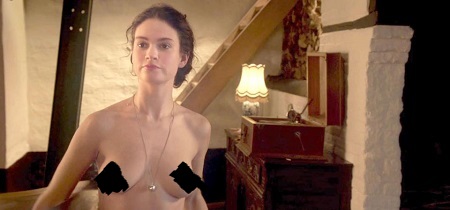 Popular English movie star, Lily James, has stunned fans with her new movie in which she appeared n*ked.

The Downton Abbey star stripped off during intense s*x scenes in new World War Two drama The Exception.

28-year-old Lily bares all during intimate scenes with Hollywood hunk Jai Courtney in what critics have described as a 'Nazi love story.'

The Exception tells the story of a Nazi Captain sent to investigate reports of British spies in rural Holland.

There he falls in love with Lily James' character, a Jewish chambermaid who is harbouring some dangerous secrets.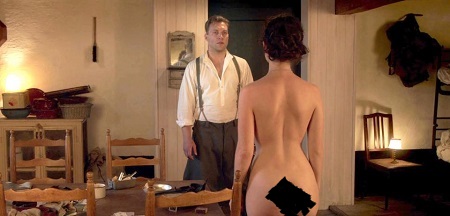 In the revealing stills, Lily's character Mieke de Jong strips completely, wearing just a silver necklace before getting intimate with Jai Courtney as conflicted Nazi, Stefan Brandt.

The kitchen based sex scene is sure to shock fans of Lily's previous work in Downton Abbey and Disney's live-action remake of Cinderella.

Lily's mainstream breakthrough came after winning the role of Lady Rose in Downton Abbey in 2012, she then went on to star in the BBC adaptation of War & Peace.

She then transitioned to the big screen with leading roles in Disney's Cinderella and vampire-romance flick, Pride and Prejudice and Zombies where she met boyfriend and Dr. Who star, Matt Smith.

Despite their hectic Hollywood schedules, Lily and Matt recently made time for a romantic stroll through London.

Clearly a huge fan of the war movie genre, Lily has will star in Darkest Hour later this year. The movie will focus on Winston Churchill's toughest decisions at the beginning of World War Two and it will also serve as the late John Hurt's final film role.


Sticking with the war movie theme and 28-year-old Lily was recently spotted mimicking Kate Winslet's iconic Titanic scenes on the set of Guernsey, another war movie that the English Rose will feature in.

The Exception will hit UK cinemas in June and is sure to shock audiences while Guernsey won't be released until next year.