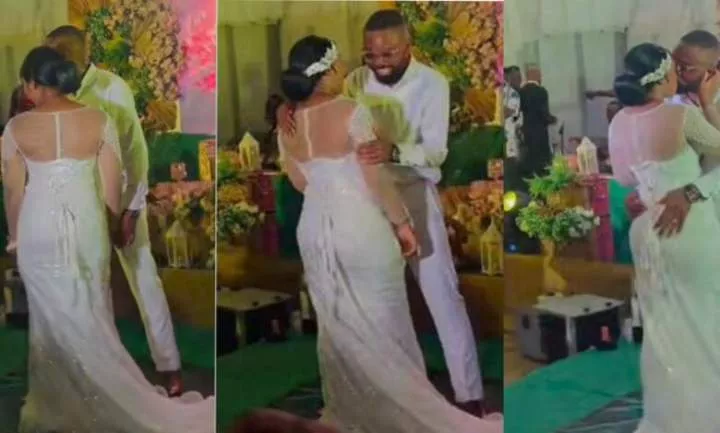 A video which has caused a stir online shows the moment a groom made a bold request from his father-in-law.
As the wedding reception was holding, the groom, known as Freedom Derby, notified the MC to call his father-in-law to witness how he will kiss his daughter.
In the video which was shared online, Freedom Derby could then be seen kissing and holding his bride.
The caption read ... "I asked my wife's father to watch me kiss his daughter."
This garnered mixed reactions from netizens as they speculate that the man must have given Freedom Derby a tough time while he wooed her.
Check out reactions which trailed the video ...
@Chizy Miracle705 reacted: "E be like that man give you a tough time."
@Mkamba said: "Show us the dad's reaction because it's like he gave this guy a hard time."
@kyli commented: "Her dad will forget his daughter is now married he will give you a dirty slap continue kissing his child."
@Beautiline reacted: "The traditional list was hell."
@Jenny Quan said: "I just dey blush if na my papa him go tell you say make you no try am with him daughter."
@glorige reacted: "That man really gave you tough time."
Watch video below...