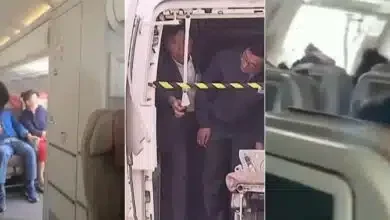 A passenger has been arrested for opening an emergency exit door during a flight, causing air to gust inside the cabin before the plane landed safely.
CNN gathered that the commercial aircraft was minutes from landing on Friday in South Korea when the passenger sitting close to the emergency door pulled a lever, opening it with the aircraft about 200 metres (656 feet) above the ground.
Passengers on board the Asiana Airlines Airbus A321 aircraft were unable to stop the man from opening the door, the transport ministry said.
Reports gathered that the police has arrested the culprit who opened the door although his motive is still unclear.
Watch the video below: