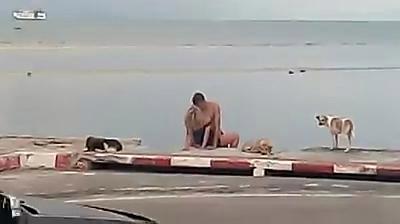 Two tourists have sparked an outrage after they were caught bonking on the beach in broad daylight.

According Sun UK, passerby Winai Jitmung filmed the shirtless man and the blonde woman on holiday island Koh Samui, Thailand, this morning. The woman and the man can be seen canoodling from the road with the bloke eventually lying on top of her.

Shocked road users turn their heads as they drive by on the busy stretch of road - and a stray street dog curls up NEXT to them.

The two-minute long clip went viral and sparked anger - just a day after two Russian tourists were arrested and fined for romping in a tuk tuk in nearby Phuket.

The pair in Koh Samui filmed today now face arrest if they are identified and tracked down by notoriously strict Thai police.
Winai Jitmung, who filmed the couple, said: ''This is disgusting. Everyone can see them and they're not even trying to hide it. They are foreign trash.''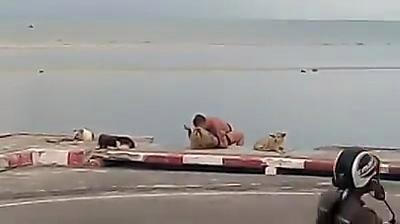 Online viewers reacted with fury and called for the to be arrested.

Noi Wattana said: ''Were they awake at that time or had they been partying all night? They should be arrested and apologise for offending our culture."

The Russian couple were fined a total of £22 after being filmed with their clothes partially off while appearing to have sex in a tuk-tuk last Friday night.

They denied having full sex and claimed they were ''simulating'' it while dancing to music from the vehicle's stereo. They were later tracked down and charged with public indecency.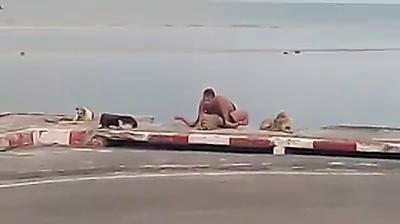 A spokesman for Ko Samui police said today that they were aware of the video and were looking into it but ''it is too early to find the man and woman in the clip''.