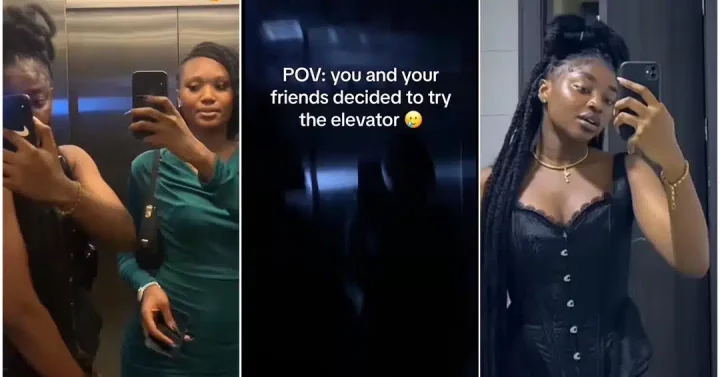 A Nigerian lady who tried using an elevator with her friends has shared the painful aftermath of the incident.
The group of friends decided to have some fun by taking an elevator together. Little did they know that their lighthearted moment would soon turn into a nightmare.
They were recording videos on their phones when the unexpected happened-the power suddenly went out, plunging them into darkness.
In the viral TikTok video, the fear and panic of Gabs_gab2 and her friends were palpable. As soon as the lights went out, they immediately started praying and shouting for help.
The uncertainty of the situation and the confined space of the elevator intensified their fear, as they were left in complete darkness, unsure of when or how they would be rescued.
@Brisat reacted: "After hearing all the elevator stories in nigeria, have come to a conclusion that I'm never trying any elevator in nigeria thank you."
@Akua_tetra said: "I remember last year I was intentionally locked up in the elevator at work side by the security man controlling it @ he said we didn't greet him."
@M commented: "At least you were with your friends, I was stack in an elevator with 3 male strangers."
@Josh Olurin said: "From baddies to prayer warriors in one milli seconds, best transitions."
@MHA_TTYAX said: "This happens when you are in the elevator without pressing anything."
See the video below: