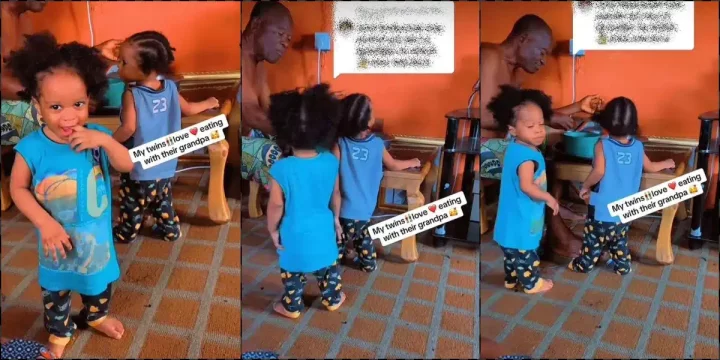 A nursing mother gushes over the adorable bond between her twins and their grandpa especially how they love eating with him than with anyone else.
A touching video shared by a Nigerian mother on TikTok showcased the heartwarming connection between her children and their grandfather.
The twins, captivated by their grandad's meal, joined him in the living room while he enjoyed his meal with both of them.
The video illustrated the grandad's patient and tender act of feeding the twins from his own plate, with the little ones standing nearby, eagerly anticipating their turn.
This charming clip melted the hearts of many TikTok viewers, who commended the grandad for his kindness and the twins for their adorable expressions.
See some reactions below ...
Lovella noted: "I got d best care n attention from my grandma,but it hurts me dat she died without seeing my kids."
Fayo _belo wrote: "Grand parents nd Grand child b like dem get blood covenant. The direct son or daugt go kon expire for their eyes."
Smile Comedy opined: "I miss my grandpa too that man showed me love."
Bamidele Moore stated: "It's a big happiness for him sef deep down he will be happy seeing his grandchildren I pray for."
Watch the video below ...