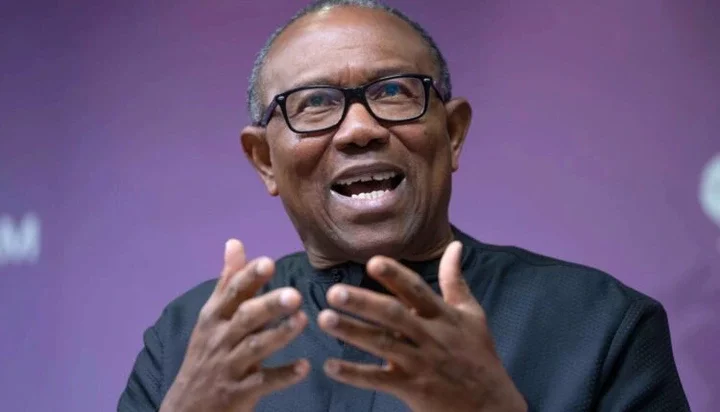 Presidential candidate of the Labour Party, Peter Obi, in the 2023 elections has dismissed complaints by the Federal Gov­ernment that it met an econo­my in a parlous state.
He said the option before the government, if it was sincere in pulling the nation through the present difficulties, would be to be more judicious with public funds and not engage in financial waste.
Obi expressed the view when he spoke with journal­ists at the Victor Attah Inter­national Airport, Uyo, Akwa Ibom State, on Saturday.
He pointed out that it was wrong for the government to lament that it met a bankrupt economy because to fix the bad situation was the reason that a better government was needed, and that it was indeed the re­sponsibility of the government to justify its coming to power.
"If you're brought in as the managing director of a bank­rupt company, you're expecting to turn the fortune of the com­pany around, so you shouldn't be complaining that you met a bankrupt company, because that's precisely why you've been brought in," he said.
He therefore advised the federal government to not try to excuse itself from responsibili­ties as though it didn't prepare for the office.
He also referred to his views on the problem of Nigeria and Africa when he spoke at a lec­ture at the Nnamdi Azikiwe University, Awka, Anambra State, on Wednesday.
He had said: "The problem of Africa, the problem of Nige­ria, rest squarely on leadership. It is bad leadership that is the problem of Africa.
"It has nothing to do with colonialism; we were colonized years ago. Today, it is African leaders who have turned Africa into an enterprise.
"Let me use this university to give you an example of the problem we face in our country.
"This university, if you are employed here and you work hard to be a professor, your sal­ary is 400,000, and if they pay you without you spending your salary for 30 years, your salary would be N144 million, which is not up to what we use to buy a car for a legislator in Nigeria. That is the problem of Nigeria. That is number one.
"Number two: This universi­ty where you are, the overhead they give to the vice chancellor from the federal government is about N10 million; so, in one year, they would get about N120million - a school that has over 500 professors, over 4,000 lectures, over 40,000 students.
"So, five of the universities like this would get about N600 million, which, if you con­vert to dollar today, is about N500,000.
"That is what we use to go to meetings of United Nations for one week. It is unacceptable.
"That is the problem of Ni­geria, that is the problem of Africa.
"We can afford to do that with less than 10 percent, so it is squarely on our us. We must dismantle this criminality."