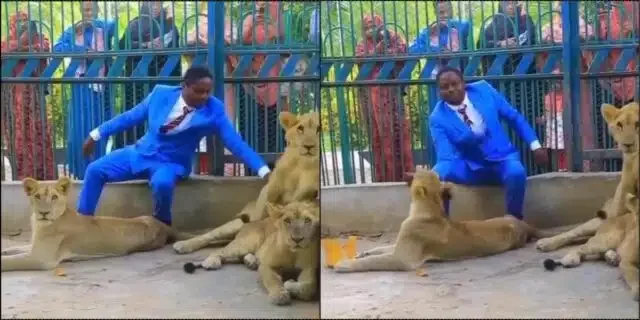 An unidentified pastor leaves tongues wagging as he reportedly invites his church members to watch him as he locks himself in a lions' den.
A video making the rounds on social media captured the moment the unidentified preacher sat with three lions.
The preacher reportedly invited his congregation to prove to them the power bestowed upon him like Daniel in the bible who walked out alive from a den.
The said preacher teased all three lions in their den while seated comfortably, proving to his church members that God's power is real.
Reactions trailing pastor in lions' den
iamblackbharbie22 said: "And you'll wonder why most people don't take Christianity serious. Cuz people like this would be making it look like a joke."
jadevineautos wrote: "Please do not mislead your followers into tempting the Lord God ! Matthew 4:7."
aremu_olami opined: "Those lion don chop na why them leave am They be like make we follow am play reach evening 😂😂😂."
michael._u penned: "Pastor Daniel enter this fine zoo dey touch well fed lions? Come try am for naija wey hunger wan kee them, the lions go think say you be the miracle.😄"
pappythrill said: "Una too use God play. 😊 Reason I always thank God that He not a man. 🚶🏾‍♂️"
Watch the video below ...