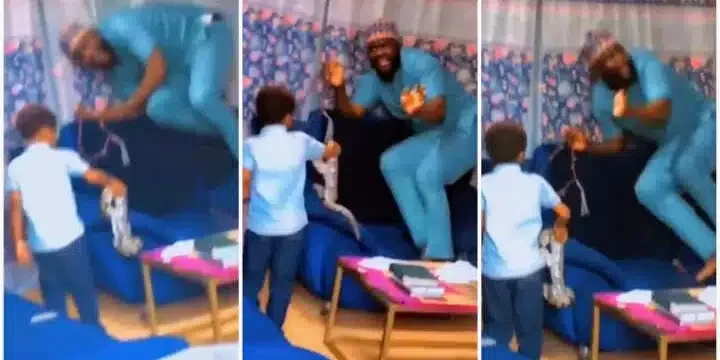 A Nigerian man found himself in a frightening situation when his little son approached him with a snake.
The incident has since gone viral on social media platforms.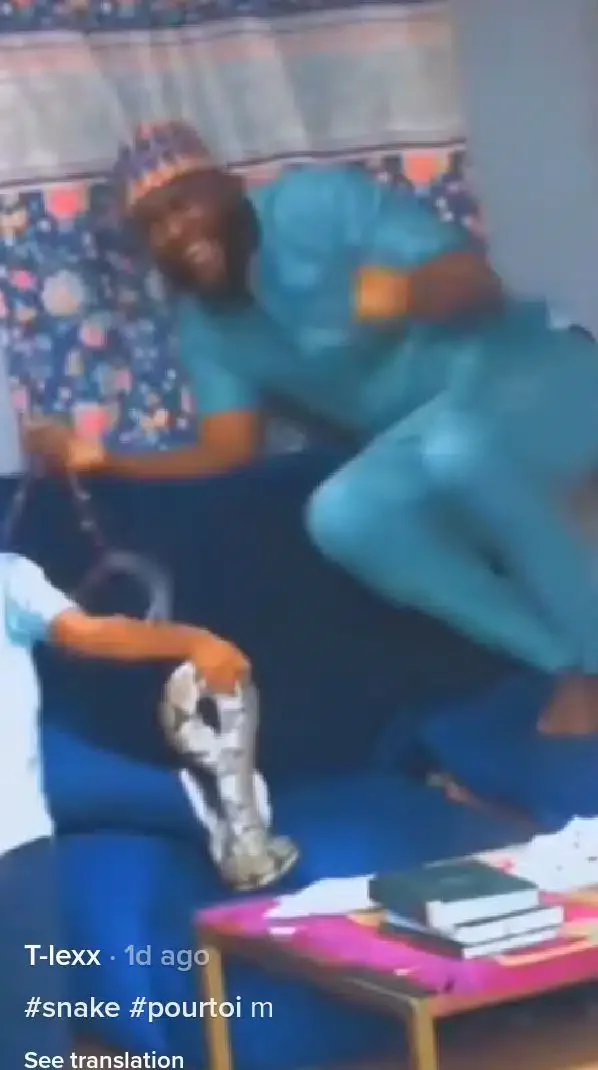 The video begins with the man, whose identity remains undisclosed, sitting on his sofa in what appears to be his home.
His little son, fearlessly holding a snake in his hand, approaches him.
In the background, voices can be heard conversing in the Yoruba language as they encourage the boy to hand the snake to his father.
However, the man's reaction was far from what one might expect.
Overwhelmed by fear, he quickly climbed atop the sofa, desperately gesturing to his son not to come any closer with the snake.
Throughout the ordeal, he could be heard appealing to the people in the background in Yoruba, urging them to intervene and assist him.
Remarkably, the young boy, seemingly unfazed by the snake, remained determined and resolute.
He did not waver, holding onto the reptile as he slowly backed away from his father, eventually leaving the scene.
The video swiftly gained traction on TikTok, amassing numerous views and comments as viewers shared their reactions to the father's dramatic response and the little boy's fearless demeanor.
Netizens Reactions...
@Ofaz22 said; "Boy was like are you going to buy the latest PlayStation now?"
@DJ_ENDEMIC said; "The Wife is behind all of this Act , she is up to something." Fortune said: "When I say children are not innocent this what I'm talking about they fear nothing."
@uchennablessing12 said; "This is how my husband behave when he sees snake or lizard."
@tony_bee1 said; "So this man will see himself on social media begging his son?!"
@denniswanjau350 said; "Me laughing knowing dam.n well I will scream the same if it was me."
@Diabz said; "The boy is like, either you marry mommy or your don't come back here."
@[email protected] said; "Someone's pillar of strength is shaken by water vapor."
See below;