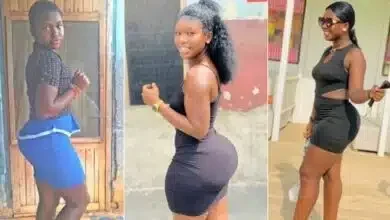 Photos of a Ghanaian lady's stunning transformation have stirred the Hornet's nest on social media.
The photos trending online showed the young lady's appearance some years ago and how well she grew afterwards.
She shared throwback and recent photos of herself on social media and netizens who were amazed reacted with epic comments.
While some noted that her body stature had always been standard since day one, others said she still added a little.
The lady however shared the photos via her TikTok page to prove to some doubting Thomases that she had always been a curvy lady right from time.
@poetdavies said: "Honestly I don't like videos but the nyash made me to like this video. Chaii me and nyash."
@livewithlove999 said: "I don't wanna believe that you're the one but I later believed that you're the one."
@mercysweetlife6 wrote: "Na only u na suppose to dey do dat yansh challenge."
@blynnk10en added: "And I asked who get that thing e come be say na him mama give am that same thing. Nyash is life."
Watch the video below: