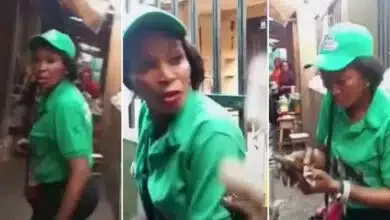 A Nigerian market woman has reached out for assistance after an incident where an unknown lady entered her shop and demanded N100 from her, claiming to be sent by President Bola Ahmed Tinubu.
The market woman shared a video of the incident, showing her confronting the woman and questioning her about who sent her. The lady attempted to flee the scene while the market woman called her names and expressed her frustration.
In the video, the market woman can be heard saying,
"Look at the woman. Ole, Ole, Ole,Collecting N100 from us. She should break my phone. Collecting N100 from people in the market . Who sent her, she said Tinubu will come down here to the market amd collect N100 from us."
Reacting to the video, instablog.tv wrote: "@kingmcoluomo come and carry your sister"
adorable_barbiieedolll said: "which money she want to run local scam on market women 😩😩😂😒"
wilson_042_ commented: "I talk am house to house soon 😂"
__kofoworola_ commented: "100x 500 shops cashout madam 😂😂onye ohi"
godson_allsom stated: "People Dey take better work 😢but she chose woman leader of agboro 🤲🏻"
ysabel_avril commented: "Una never even see anything"
micson12 wrote: "Let God p***sh anyone who's trying to spoil the name of the new president #officialasiwajubat"
alhajakudirat_jewelries stated: "All this is a plan work to destroy President Tinubu name olohun loma ba ti gbogbo yin je loruko Jesu Amin"
niffiebankz_ said: "Well staged 😂"
tufab wrote: "Lmao Mc Oluomo Girlfriend 😂😂"
eko.savage wrote: "Make una hold her o..werey wan use phone call disembark 😂😂😂"
officialsantus stated: "Make una pay Una money, everybody go see the shege. Na Una still vote for him"
carphy_flinks wrote: "Na lie,she won scam them ni o"
bube895 said: "Day 5, never stop running"
igbodiaries reacted: "Please, follow us for interesting contents on Igbo History, news, culture, tourism, lifestyle and everything about Igbo ❤️"
Watch the video below: