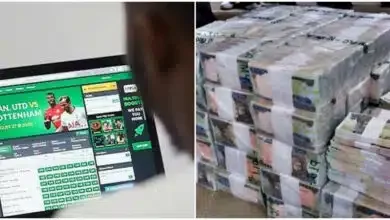 A young boy has lamented about how his father asked his younger brother to return N38 million bet he won recently.
According to the young man who shared the message anonymously to a Facebook page, his kid brother who is 19 years of age stake a bet with N450 and won N38 million.
However, their father has stood against his brother bringing the money; N38 million he won home with the excuse that he doesn't support betting or gambling.
The young man seeking advice from social media further disclosed their rent will be due in two months hence their mother is currently having issues with their father over his decision.
He wrote,
"My 19yr old kid bro won 38M with 450 naira and my dad is insisting he returns the money because he doesn't support gambling despite explaining and showing him the slip, he's still insisting. Our rent is due in two months, now it has caused issues between him and mum. Kindly advise."