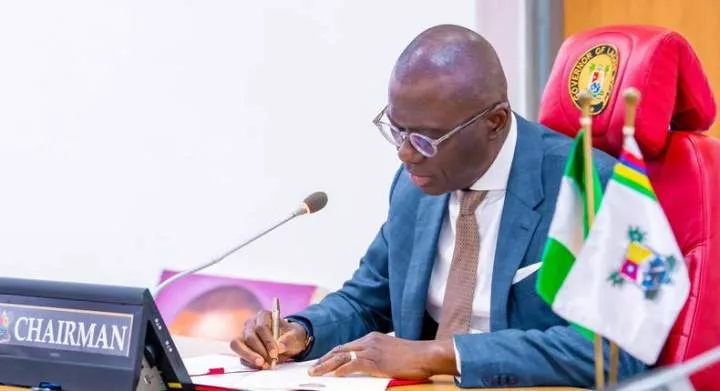 Ahead of the February 25 Presidential election, Governor Babajide Sanwo-Olu of Lagos State approved ₦24.5m for the renovation of the official residence of the Commissioner of Police in the state.
According to Daily Trust, the project, awarded to Omay Engineering Services Ltd was dated February 6, 2023.
This is revealed in the Public Procurement awards by the state government in the 2nd and 3rd quarters of 2023.
Apart from the money spent on renovation, Governor Sanwo-Olu also released ₦20.8m for the decoration of the venue of political delegates' congress.
According to records from the state's Public Procurement Agency (PPA), the Lagos State Government also approved the sum of ₦44.8m for 'the clearing of vegetables within the Epe Mixed Development Scheme.'
Over the weekend, the state government was heavily criticised for approving ₦2 billion for the "provision of supply items (rechargeable fans, rechargeable lights and fridge in the office of the deputy governor."
The criticism against Sanwo-Olu and his government was sparked by an open letter Funso Doherty, the governorship candidate of the Action Democratic Congress (ADC) in Lagos wrote to Sanwo-Olu on some contract awards reported by the state's Public Procurement Agency (PPA).
Some of the issues raised in the letter include the millions of naira awarded for the procurement of bulletproof vehicles, ₦531 million released for the renovation of Saint Andrews Anglican Church in Oke-Popo and the ₦18.5 million awarded to the office of the Chief of Staff to the governor for the "supply and distribution of 2,000 Noiler chicken across the local government areas and wards in the state,"
Meanwhile, the Deputy Governor has denied receiving ₦2 billion for rechargeable fans, saying he only got ₦2 million.
In a memo addressed to the Director General of the state's Public Procurement Agency, Hamzat said contrary to the ₦30m reported by the agency, his wife only received ₦2.5m each for her monthly outreach to indigents and empowerment programme in Lagos.
He maintained that the report by the agency was untrue, mischievous, fake and unfounded.