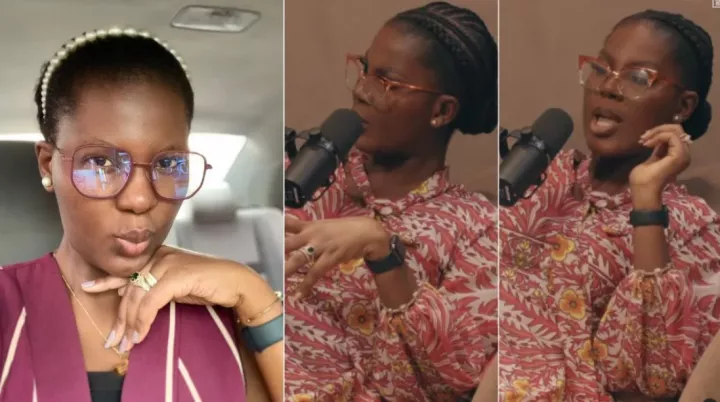 A Nigerian lady, a writer and enterprenuer, Titoluwa Sam Oladapo, has narrated her devastating experience as a child.
In a latest episode of 'Teawithtaypod' hosted by media personality, Taymesan Emmanuel, the 'Jesus' brand influencer revealed that she was raped at the age of 6 and 13. At 15 years old, she was abused carnally.
Narrating her ordeal, Tito revealed that she was so traumatized and started to question God.
According to the young lady, she found it difficult to sleep with her husband on their honeymoon and got diagnosed with a psychological condition called 'Vaginismus'.
According to reports, Vaginismus is a medical condition where by the female organ suddenly tightens up when you try to insert something into it. It is the body's automatic reaction to the fear of some or all types of penetration. Watch the video below:
The video triggered massive reactions as commenters shared their thoughts. Some reactions are shown below:
vbw_riakosher said, "Tito is the perfect guest for any show. She makes you want to love Jesus Christ more.❤️".
praisepenspires22 said, "She was raped but yet married a virgin??? Howwww".
vidabymaria said, "Ahhhhhhh I like this babe shaaaaa".
bumsy_da_princess said, "There is just something about @titothewriter that inspires me when I listen to her. She is a brand. You know some people may think brand as a negative thing, but what do I mean by @titothewriter being a brand? An inspiring woman, mission-driven, working and living in purpose, fierce, vocal advocate who stirs up what she's passionate about - God! Wow! She's an instrument of glory through Christ Jesus. Like I always say, everyone has a story, but what we must all know and understand is that 'GOD WILL SURELY TURN THE PAINFUL PAST WE EXPERIENCED INTO A BEAUTIFUL TESTIMONY' and 'THERE IS BEAUTY IN THE JOURNEY' @teawithtaypod a and very deep episode. May God continue to bless the works of your hands Haa! God's name be forever praised ".