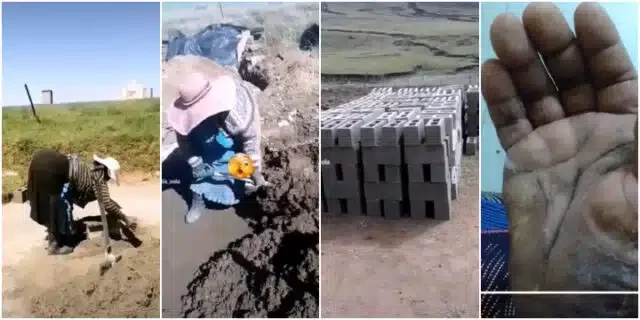 An elderly South African woman has captured the hearts of many on social media as she tirelessly attempts to build a house with her bare hands.
The video, which has gone viral on TikTok, showcases the remarkable efforts of this hardworking woman, revealing the challenging journey she undertook to provide a home for her family.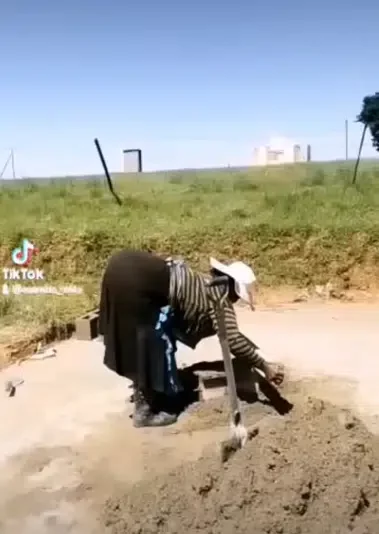 The video, posted by user @asanda_xola, reveals the elderly woman engaged in the laborious process of constructing a house entirely from scratch.
Her unwavering commitment is evident as she molds bricks by hand and mixes cement using a simple spade, sparing no effort in her pursuit of a better future for her loved ones.
However, what makes this story even more poignant is the revelation that her hands have become infected,
Netizens Reactions...
@Zelda asked; "Hawu kanti abantu banjani?"
@simangele532 responded: "Jehovah ngeke avume ngomama luzovela usizo."
@Mumsy Mabaso said; "Phephisa sisi thola tempeli lakwaShembe bazomsiza."
Lukhanyo Qobosha said: "I pray in Jesus name , she receives healing instantly iswabuluke yonke lonto. eGameni Lika Yesu krestu wase Nazarethe."
@sbesihlemakandond commented: "Kodwa Jehova, asikho ndawo emhlabeni, muntu ufela amandla akhe."
See below;