Social media users criticize a groom for disrespecting his bride by pressing his phone while walking the aisle on their wedding day.
The controversy stems from a video captured during their church wedding, where the groom appeared to be completely engrossed in his phone while he and the bride exited the premises.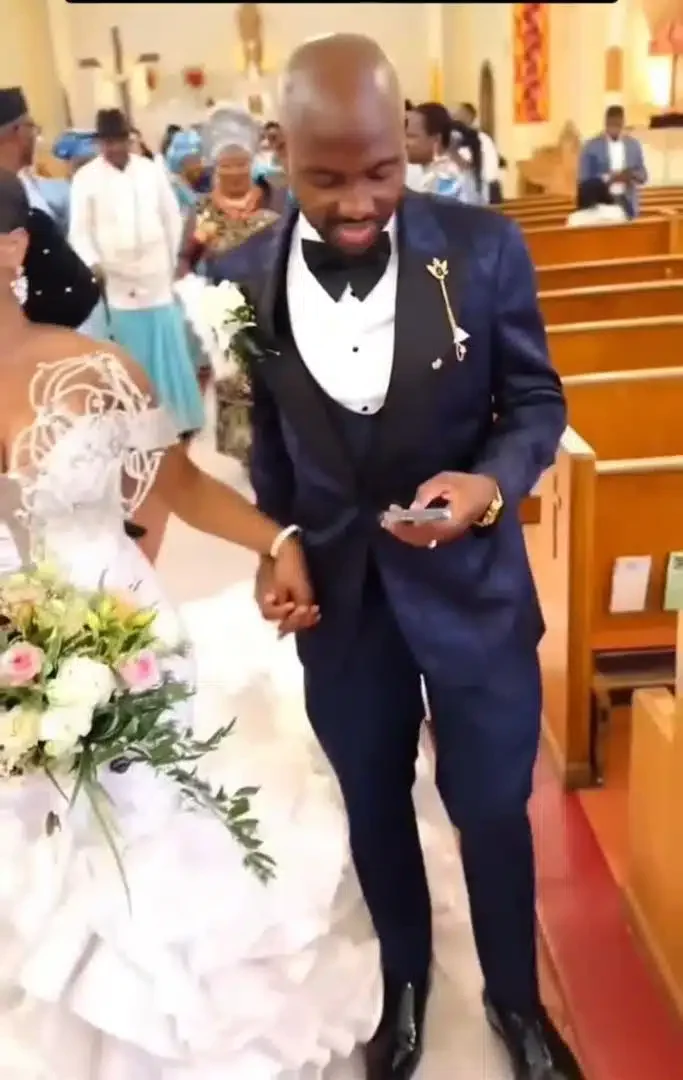 Despite the bride's presence, the groom gave undivided attention to his smartphone, only briefly extending his hand to her as they embarked on their walk together. Interestingly, the bride seemed unfazed by his divided attention and willingly held hands with him as they departed.
However, even outside the premises, the groom quickly returned his focus to his phone, stealing only a fleeting glance at his bride before doing so.
Reactions trailing groom pressing phone on wedding day
@Mac_Roberts penned: "This man won't ever get that moment back....... And she'll never forget it. Dam.n shame."
@JohnSmi01534541 wrote: "Sidechick sleeps around too so its all kool. The wife will just find someone to sleep with too."
@ADS_ZAR said: "The Text: "Sidechick: Haybo did you just post pictures of you getting married, what about our 5 year relationship ???
"The Reply: "Groom: Yes, I'm getting married but its not that serious. You know I only love you babe I will see you tonight love ."
@Modipadi_W said: "What a 10 past 4 is this‍♀️ Women tolerate rubbish, on her wedding day and he's busy chatting, mxm!"
@jayr_peter said: "I don't care whosoever is texting you. "This behavior is totally not acceptable."
@TheKahimaZ said: "This one is called red flag pro max. But because we want weddings more than our mental health, she's yet to testify to her ancestors how it's going down."
Watch the video below ...