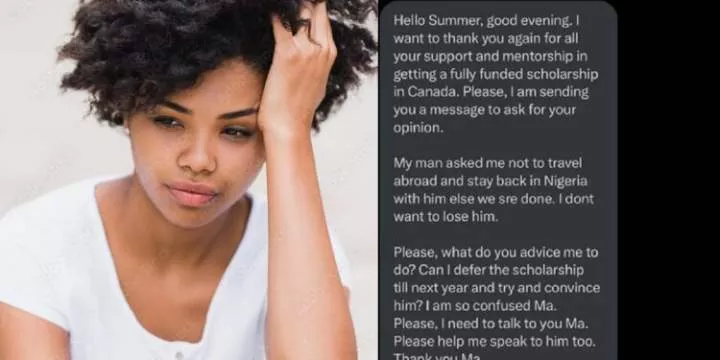 A Nigerian woman has revealed she has to make a difficult decision of whether to choose love or a scholastic chance that could lead to new opportunities.
She received a completely funded grant to pursue her master's degree in Canada, but her partner wants her to decline the opportunity.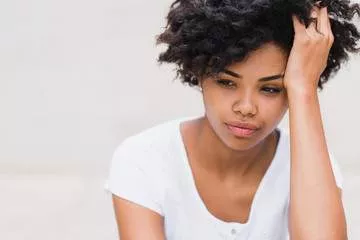 The 22-year-old woman claimed that he warned her against traveling overseas for fear that it would cause their relationship to terminate.
The young woman shared her plight with a social media adviser, who posted it on Twitter to get advice.
The adviser wrote;
"You won't believe what this girl's boyfriend asked her to do! Just when she thought life was going perfectly - a scholarship abroad, opportunities of a lifetime - love knocked on her door.
Now, imagine having your dreams within reach, only to have someone you love ask you to give it all up. This is the heart-wrenching story of a girl faced with a tough decision: leave for a scholarship abroad or stay back in Nigeria for love?
What will she choose?
She got a fully-funded scholarship to pursue her Masters in Canada. She was so excited and discussed it with her boyfriend who suddenly went cold. She was worried and pushed to find out what was wrong.
In her words, he said, "I should either stay back in Nigeria, build our future together in Nigeria and stick together or they end the relationship and she can proceed to Canada."
She was confused. Why make me choose, she asked him. He said... "our plans to be together will not be feasible if you relocate abroad."
I was curious to know why she was considering it in the first place and I quickly asked her how old she was. She said 22 years!!! Here was my response to her I finally called her and we spoke at length & hopefully, she takes my advice and JAPA!!! My 2 cents: A man that loves you would not stop you from achieving your goals. He would support you and not kill that dream. A big RED FLAG!!! What are your thoughts about this? If you were to be in her shoes, will you stay back in Nigeria to save your relationship or will you break up and relocate abroad? In the same vein, if you were married and your husband requests the same of you, what will you do?"