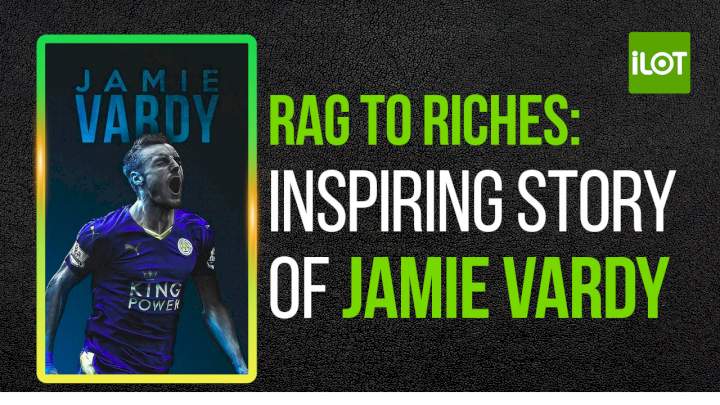 Jamie Vardy one of the deadliest strikers in his prime, keeps banging lots of goals in the English Premier League and making a name for himself. Bet on iLOT and win big with the BIGGEST ODDS and the fastest cash out in Sports Betting in Nigeria.
Leicester City did the unthinkable in the history of football in the 2015-16 Premier League season. The foxes weren't always the powerhouse that we see today, defeating historically great teams like Chelsea and Manchester City, but the fairy tale doesn't end with Leicester City. Their star player, Jamie Vardy, arguably has a more impressive story. From a young age, Vardy had dreams of one day being a professional footballer, but as a teenager he was released from the youth academy of Sheffield Wednesday, he plays in English soccer's second division. Determined not to give up, Vardy continued to play football with the Stockbridge Park Steels, a team in the seventh-tier of English football.
Vardy was an exceptional player, scoring 66 goals in 107 league games for Stockbridge. Many teams took an interest in Vardy, and in May 2012 the 25-year old was bought by Leicester City from Fleetwood from 1 million euros. Although he had finally earned professional status, his struggles were far from over. A poor first season performance left him wondering if he should continue with football. In the 2013-2014 season, Leicester earned back a spot in the English Premier League with the help of Vardy's 16 goals. His first season saw him put on a spectacular performance in Leicester's win over Manchester United as Leicester managed to retain their spot in the Premier League.
On August 29, Jamie scored a late penalty against Bournemouth to tie up the final score. In his next match, he scored against Aston Villa and then, against Stoke city then against Arsenal and also, against Norwich City. On November 21, he scored just before halftime against Newcastle, but this goal was special. It meant that Vardy had scored in 10 consecutive Premier League matches, tying the record set by Manchester United's Ruud van Nistelrooy. Perhaps there was no better opponent to stop him than Manchester United themselves but they couldn't, and after receiving a wonderful through ball behind United's defence, Vardy claimed his place in the record books.
Jamie Vardy and Leicester City have already staged one of the greatest stories in football history. It's a wonderful tale of hard work, perseverance, and pure talent, and it's hard not to hope that it ends in a title for Vardy and the foxes.
Win Big on iLOT Bet when you bet on Brendan Rodgers and his team at King Power stadium, the home ground of Leicester City.