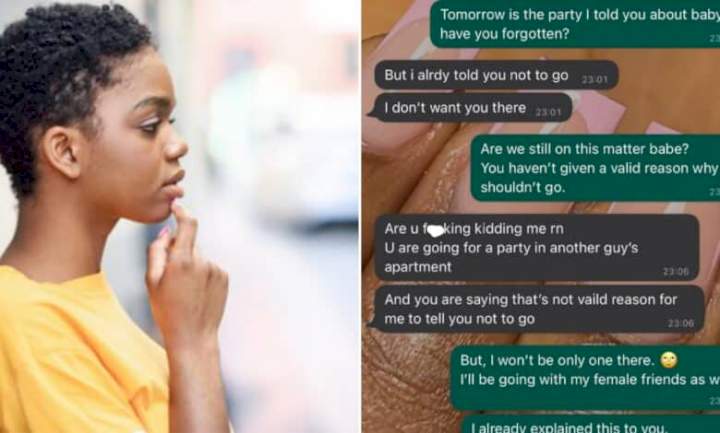 A conversation between a lady and her boyfriend who stopped her from attending a house party sparked controversy online.
A lady with the Twitter username @the_real_comfyy shared conversation the chat with the caption, "why do men set these boundaries?"
According to the chat, a lady intended to go for a party at a male friends house, but her boyfriend objected to it as he didn't want her around other guys.
Reacting to this: @tee_classiquem1 wrote:

"It seems many of you just like creating unnecessary drama in ur relationship, for him to ask you not to go then its obvious he loves and cares about you, prevention is better than cure, what if you get there and you get drugged and maybe some of those guyz take advantage of you?"
@walshakgentle wrote:

If a guy ask you not to go, he likes you. He knows what house party is all about, he knows you could get drunk and misbehave. He wants you for keeps not for the street. The best you can do for him is to obey and stay away from the party. That's respect. Men love respect."
See the post below: