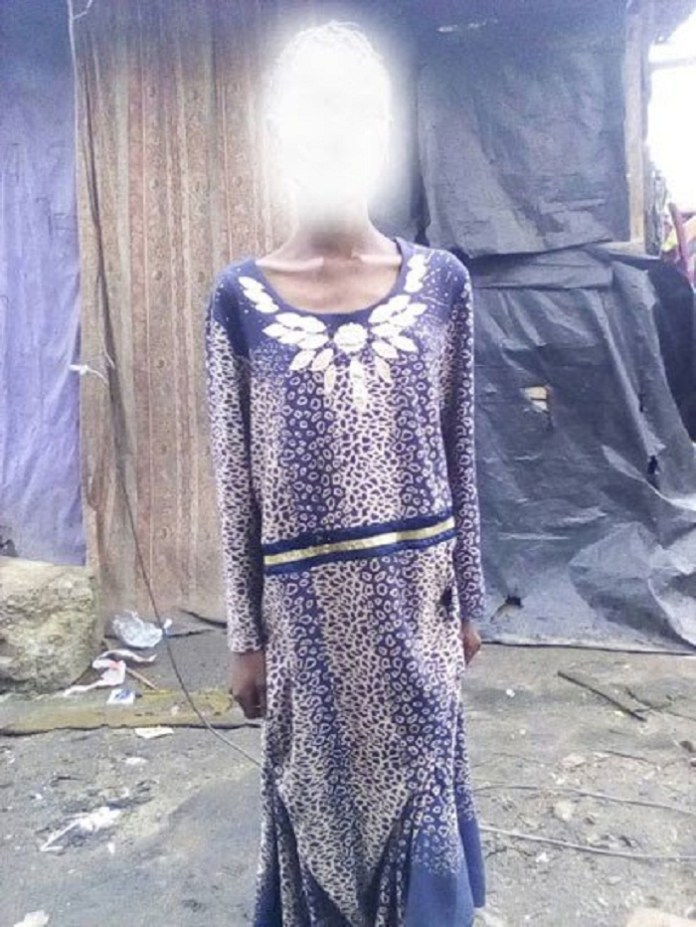 Barely two weeks after Lagos State and the Child Protection Network (CPN) secured justice for a [email protected] 10-year-old girl when her attacker bagged 26 years jail term, another girl, simply identified as Bosede, 16, lost her life 10 months after she was allegedly [email protected] by four boys in Oke Eri area of Oworonsoki, Lagos.
Oke -Eri is a riverine community where poverty is prevalent.
Bosede was said to have taken critically ill immediately after the attack and did not recover until she passed on. The harsh environment created for Bosede and her family points to the fact that some people see [email protected] as a normal occurrence that no one should raise eyebrows about but something to be settled even after the death of the vulnerable child, because, according to the father, the family is being threatened by some people who want the case stopped.
Bosede's father, Mutiu, told Sunday Vanguard he didn't know there is a special centre to take the daughter to when the incident happened until someone heard about the case, about seven months after, and informed the CPN Co-ordinator for Kosofe local government area, Alhaji Awofeso Rasheed.
According to him, different obstacles created by the police and the Social Welfare Department of the state Ministry Youths and Social Development hindered the treatment of her daughter until Rasheed intervened. He, however, did not disclose the name of the ailment Bosede was diagnosed of.
The bereaved father said several tests were carried out on Bosede, saying the result of the last test was received on Friday, November 3, while she was to be admitted into a government hospital and commence treatment on Monday, November 5 but died on Saturday, November 4.
Mutiu identified those he believed attacked her daughter and [email protected] her as Rilwan, Kamoru, Nurudeen and Bobo in Oke Eri on January 6.
Trauma of [email protected]
Narrating the attack on Bosede and the trauma he went through as a result of the incident, he said, "I gave Bosede N100 when I came back from my carpentry work to go and buy food for her dinner that night around 9 o'clock, not knowing that night would be the beginning of a journey of no return for my daughter.
Before the unfortunate incident, Bosede was learning fashion designing in the community because I could not afford to send her and her junior brother, Abdul, to school after the demise of their mother, but I made sure I took care of them with the little I had so that they could survive because there were five siblings but others died at birth.
"At 10pm when she had not returned, I was worried and her stepmother and I started looking for her. We didn't see her until around 12 midnight when we saw her crawl out from a structure four buildings away from my house crying and her body drenched in blood. That was when she told us that four boys had [email protected] her. She named the son of one of my co-tenants, Rilwan, as the leader of the gang but all the attackers had fled. I couldn't do anything that night because it was late. I went to Lalonge Police Station the following morning to report and they arrested two of the suspects, Rilwan and the one popularly called Bobo.
That was when my co-tenant, Rilwan's father, started fighting me, saying he will kill me if I didn't effect the release of his son. He went to the police station to lodge a report and the police came to arrest me.
The police now turned the case against me to the extent that my wife had to borrow N5 000 to bail me. That was how the two suspects who allegedly tortured my daughter and [email protected] her were released and I was left to face the problem of taking care of her. I took her to a hospital nearby and they told me they had checked her and she was given drugs and they assured me she was going to be okay. But since that day, I noticed that she was no longer herself. She was always quiet and complained of pains.
Emaciating
"Four months after, I noticed that she started emaciating. Someone saw her and I narrated what happened. It was that person who introduced me to Alhaji Rasheed Awofeso who swung into action immediately. He went back to the police station and told them they must incident the case because there was no record that I reported it. They made one arrest because other suspects fled immediately they heard government was now involved in the case.
"We collected the last result of the tests carried out on my daughter on Friday, November 3 but that day she was in unbearable pain. I had the test result but didn't know what was written inside. When I couldn't stand the way she was wriggling in pain, I took my television set and sold it for N7, 000 and, with the money, I rushed her to a nearby private hospital, gave them the test result and told them we were going to the General Hospital on Monday to commence treatment before this happened.
The slum where Bosede and family lived.
The doctor read the test result and admitted her to commence treatment, though he said I brought her late. When I saw the way the girl was wriggling in pain and shouting for help that she didn't want to die, I ran out because I couldn't bear it. But in less than 30 minutes, she gave up the ghost.
"Though my daughter is dead, my pain is the way the father of the boy who my daughter said led the gang of four that [email protected] her mocks me, saying I will never see his son to arrest and that my life and that of my family is not safe. Despite my loss, I am being threatened because he belongs to a feared group.
"I want government and kind hearted Nigerians to help me get justice for my daughter because some people see the [email protected] and death as a normal thing.
Police didn't take up case - CPN Coordinator
Awofeso Rasheed, the CPN Co-ordinator for Kosofe local government area involved in the case, also spoke to Sunday Vanguard.
According to him, he got to know about the incident on July 6 when a resident of Oke Eri told him that a 16-year-old girl was [email protected] in the community. "I immediately went to the community and spoke to the survivor and the father. I was made to know that the son of a co-tenant of the father and three other boys [email protected] her.
I inquired about the steps the father took after the incident and he said he reported the case the following day but there was no serious arrest made from January to the time the case got to me on July 7. By the attitude of our unscrupulous policemen, the matter was never taken up", the CPN Coordinator said.
"There was no record of the incident reported to them. I told the officers at the police station that they must incident the matter and, from there, I collected the form for health examination and we took Bosede to MIRABEL because the girl couldn't stand on her feet. She had emaciated and had abandoned her fashion designing job.
Each time we took her out, we had to carry her. Medical examination was carried out and it was recommended that she needed immediate attention at LASUTH and was expected to be admitted but, somewhere along the line, the people the father met there (LASUTH) told him he was going to pay some money and, because he didn't have the money, he took the girl back home.
On Monday when we went back to MIRABEL, officials said the time for emergency attention had passed, going by their recommendation.
"I then wrote a letter to the Child Unit of the Ministry of Youth and Social Development that something drastic needed to be done to ensure the girl survived but someone told me there that if I really wanted the girl to survive, I should write to a particular top official. I wrote the letter and, some hours later, I got a call for appointment and I went there with the father.
But the social workers we met too became a problem as they were demanding money from someone that did not have money to even take care of the child. The father ran away again. It took him another three weeks to take Bosede back.
"At the CPN, one of us volunteered to take the [email protected] girl to Ifako Ijaye General Hospital where three tests were recommended and two had been done and the last was scheduled to be done on Friday but she developed crisis on Thursday when she was rushed to a nearby private hospital and died on Friday. One of the four boys who allegedly [email protected] Bosede was arrested and is being remanded in Adigbe Juvenile Remand Home, Abeokuta because he too is a minor".