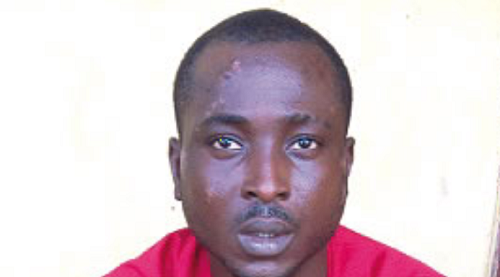 A notorious armed robber suspect in Rivers State, Ogadinma Amadi, has said that he became an unrepentant criminal because he was looking for money for the treatment of his mother currently suffering from stroke.
Amadi, explained that though he had denounced cultism, he could not stop armed robbery because of his sick mother.
The suspect was one of the seven persons paraded by the Rumuolumeni Police Division in Obio/Akpor Local Government Area, for their involvement in various offences, including stealing and armed robbery. A native of Owerri, Imo State, the suspect, was described by the police as a serial armed robber.
Amadi added that he had decided to seek the assistance of a pastor to deliver him from the spirit of armed robbery. "Yes! I used to be a cultist, but I have been able to leave cultism. I was into armed robbery before I was arrested by the police.

I was not able to stop armed robbery because I needed money to get my mother treated. My mother has stroke.
"If I am freed, I will stop armed robbery. My aim is to meet a pastor, who will show me the way after delivering me from the spirit of stealing," Amadi stressed.
The suspect was said to have attacked a businessman with a machete before he (businessman) was rushed to a hospital.
Speaking on Amadi's capture, the Divisional Police Officer of Rumuolumeni Police Division, Mr. Kingsley Chukwueggu, said the suspect was arrested along Mgbodohia-Nkpo road in Rumuoloumeni on July 5, 2017.
Chukwueggu, who described the suspect as a serial armed robber and habitual criminal, recalled that Amadi was always inflicting machete cut injuries on his victims before taking away their belongings.
He explained that the suspect had stolen generators from many residents of Obio/Akpor before he was finally caught, adding that his accomplice, one Ikechukwu Chukwu, who usually helped the suspect to dispose stolen generators, was also arrested.
"Ogadinma Amadi was first arrested for cultism on February 2, 2014, and charged to court. He was released and on the 16th of July, 2014, he was arrested again for armed robbery.
"After he regained freedom, this time around, he went for armed robbery and was caught during their operation. Before his final arrest, he almost killed a man, who went into coma for several days," the DPO said.
He, however, promised that Amadi would be charged to court after the end of further investigation.