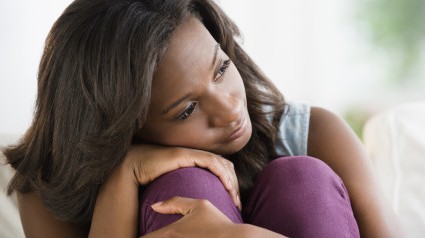 A woman shared her story on yoanswers, a relationship site, stunning readers with her weird tale.

According to her, her husband has died long ago but still comes to see her at night.

Below is how she shared her story:

********************************

Please help me, I have gone through enough of this spiritual warfare.

I'm a 30-year-old widow and my husband died 4 years ago when I was 26 years old. We had just got married when he was involved in a horrific car accident and died on the spot. That was 5 months after we had been married.

I got a lot emotional pain especially when I began to mysteriously see him every night in my dream. He would be crying whilst looking at me.

3 months later I felt like someone was waking me up at night and I was shocked to see him in my bedroom, sitting by side of the bed. I wanted to scream but he held my mouth and said he had come to help me since he had seen that I was suffering a lot.

I asked him how that was possible when he was dead and he said although we had buried him, his spirit had not departed. He said he still wanted to be with me for some time. He said he would look after me but he warned me against telling people about this development.

He said I should not tell even his own mother and I agreed not to.

I must confess that at that time, I really felt happy because I really missed him. Since then we have been living together as husband and wife with the ghost of my dead husband. Then there is a church I visited early this year and the pastor preached about not interacting with the dead. And it really hit hard. I realised I should not have contact with the dead and it sent shudders in me.

Now I want to stop living with this dead man but I don't know how to go about it. I really loved my husband and even up to now I still love him dearly. He has never changed. He still is exactly like he was before he died. But what I have noticed is that he is not growing older. He still is exactly as he was when he died four years ago.

I don't even have feelings for any other man. I feel like I'm a married woman. Our s*x life has never changed, It's still as it was before my husband died. But now I'm scared that I'm living with a corpse in the house. Maybe it's because I'm now going to church. I have also not stayed with anyone in my house since my husband died. I always live alone.

At church, our pastor was once attacked with the demon of another man and the man of God collapsed then became conscious later on. It's evident that if I ask him to pray for my husband's spirit to go away, that would be way beyond his powers. I'm also afraid of telling my husband that I don't want to live him with anymore.

How do I tell him when he loves me so much? When visitors come to my house during the day but they don't see my husband. I have never told anyone about this strange encounter, this is my first time to open up about it. One day he told me that his spirit would depart when I breathe my last. So to him, as long as I'm alive he wants to be with me.

Is there any pastor who can solve this spiritual problem? I have been to well known local prophets, but they all failed to detect my dead husband's spirit.

I wanted to come across a prophet who would first detect that I'm living with a dead man before I could narrate my ordeal to him. I am now born again and I now want to live a normal life.

Please help me win this spiritual warfare.